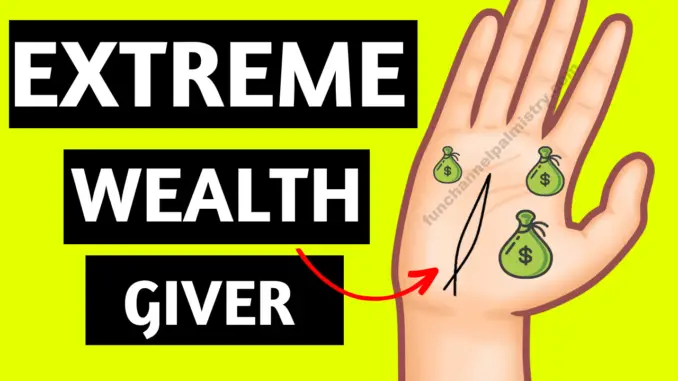 Apophenia is the human tendency to see meaningful patterns, shapes, and connections in anything based on one's experience, the current state of mind, and incidents.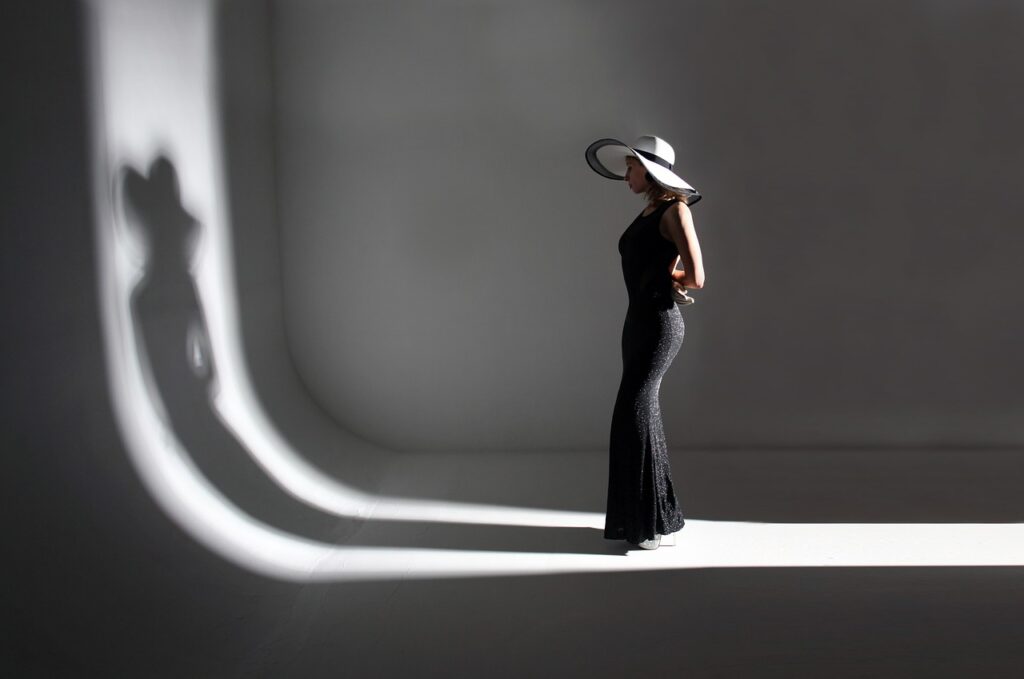 For example, people construe dark spirits in shadows, make zodiac signs out of scattered stars in the sky, spot strange-looking lights as UFOs and the possibilities are endless.
Although it can be contested that this psychological trait helps to sell some abstract artworks for mind-boggling prices which might seem bizarre or straight-up stupid to a common man.
Likewise, most people make a fish sign on palm out of any random lines and their confirmation bias is so strong that they are just dismissive of any other opinions that do not fit their narrative. This leads to errors in judgment.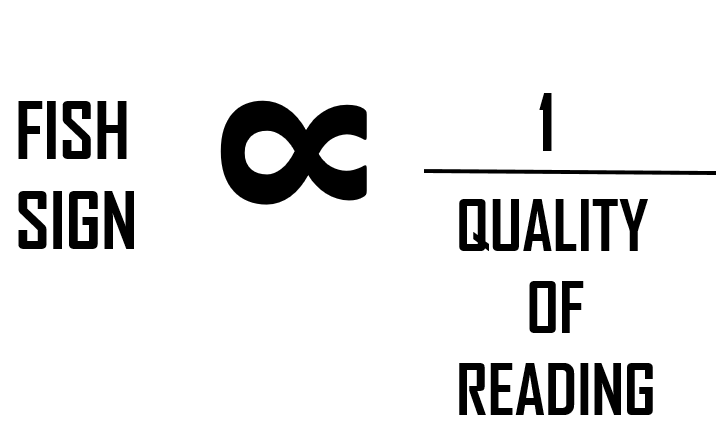 Fish sign in palmistry is inversely proportional to the quality of reading.
Broadly speaking, more the fish a palm reader frequently finds on the hands is equivalent to a bad palm reader and poor quality reading. Never ever trust a reader who makes fish signs out of random lines. It just misleads people and brings a bad name to palmistry.
Two Golden Fish Buddhism Symbol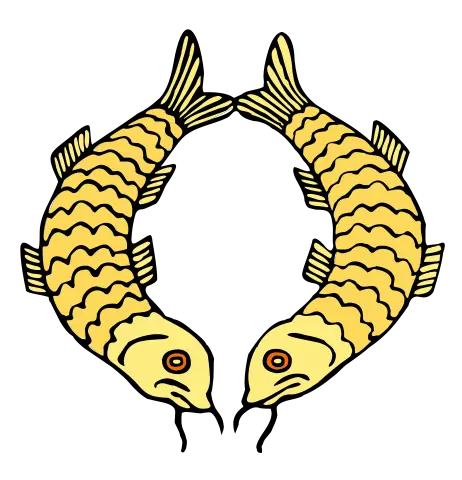 In Buddhism, fish is one of the eight auspicious symbols.
A pair of golden fish represents good luck and happiness. A male and a female are needed to create life. Fishes typically lay hundreds to thousands of eggs at once. Hence they are also related to abundance and fertility.
They swim freely in the water and thus symbolize freedom and fearlessness as well.
Fish In Christianity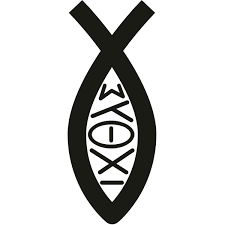 In Christianity, folks use to call it ichthus which is a Greek word for a fish.
Believers in Jesus used this symbol to recognize each other and reinforce their faith in Christ. You can find several references in the Bible where Jesus fed his disciples with fish.
Matsya Fish Hinduism Symbol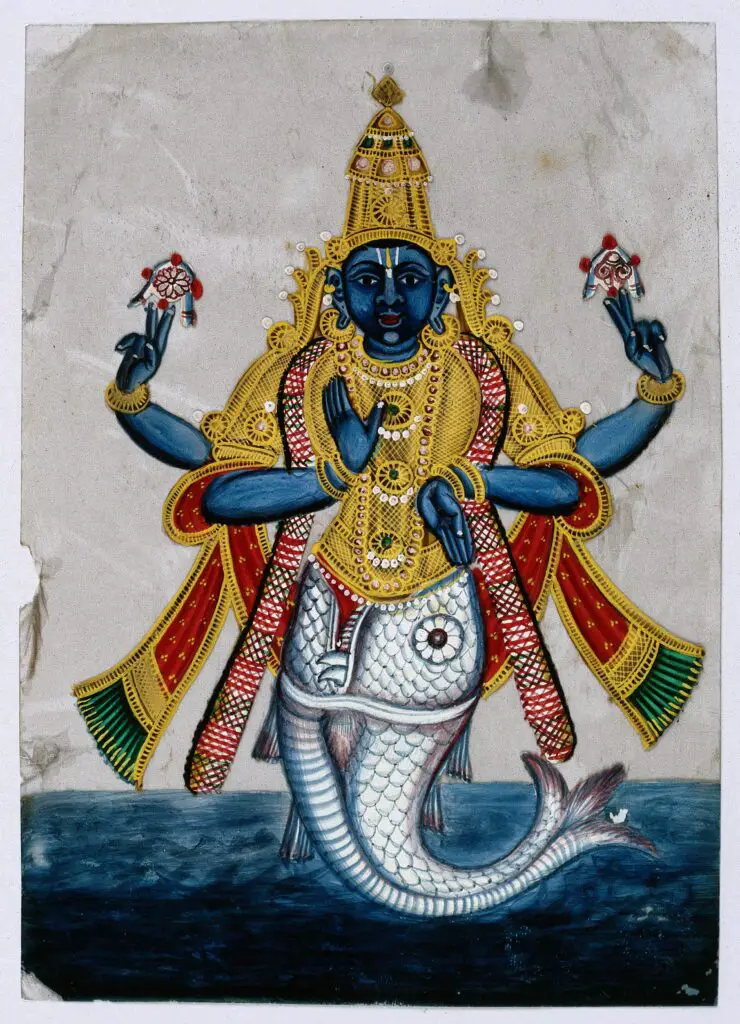 In Hinduism, it is known as Matsya, one of the incarnations of Lord Vishnu.
It is said that he took this avatar to save human beings from floods and symbolizes salvation.
Fish in Chinese Culture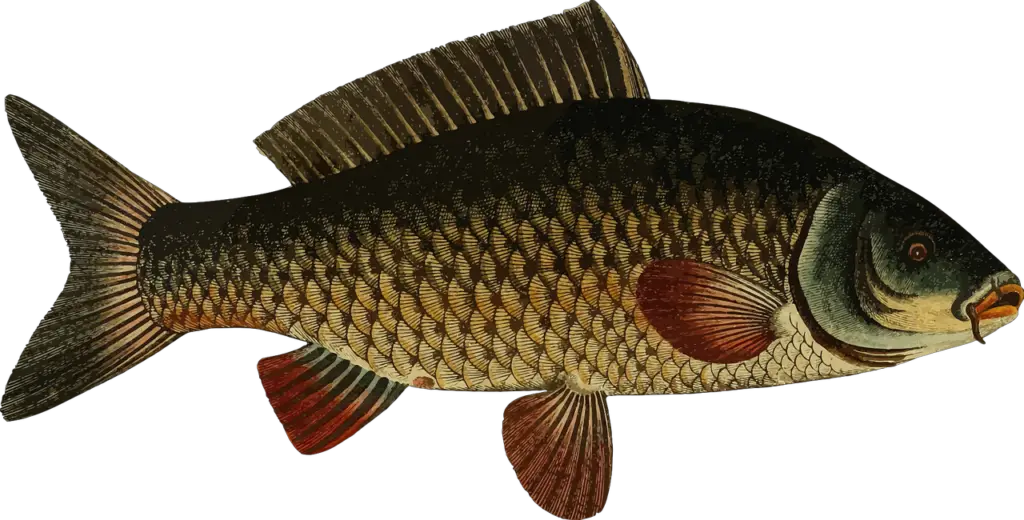 Chinese culture regards the Carp fish as a symbol of prosperity and good fortune.
Japanese Koi Fish Symbolism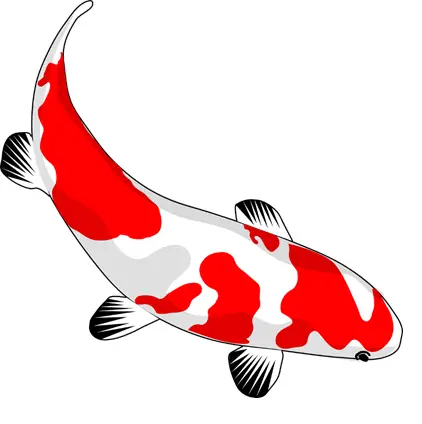 Similarly, Koi in the Japanese tradition exemplifies luck, good health, longevity, and sure success after struggles and perseverance.
I don't mix religion and faith with palmistry. I sometimes use it as a premise and analyze palms with logical reasoning abilities. Hence chances of making an error are slim.
Types Of Fish Sign In Palmistry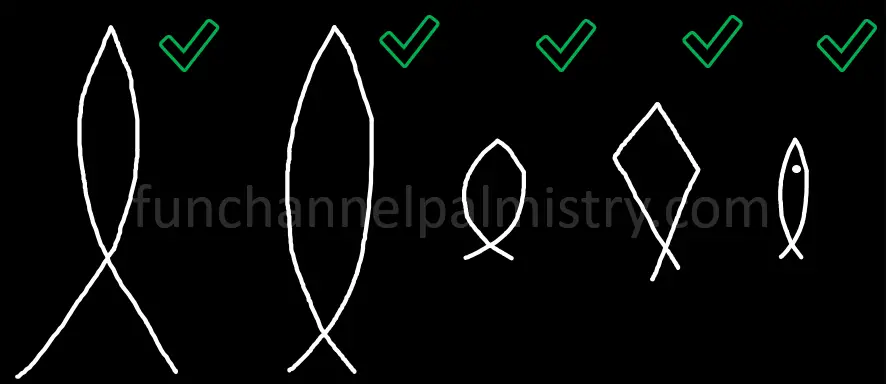 There are different types of fish sign in palmistry.
When two curved lines from two different points merge together at a single point, a fish-like figure gets formed. Depending on the nature of its formation, it can leave long or short fishtails are shown. It is quite a well-known fish sign in Chinese palmistry.
As a thumb rule, a big fish sign on palm is more favorable and provides positive results as compared to a small fish.
An elongated fish look like someone hammered a rectangle on one of its edges leaving the tail behind as shown.
In rare cases, a dot or a circle is formed inside the body of a fish which can also be construed as a fish symbol in palmistry.
I have seen numerous times that people make fish symbol out of random or crisscrossing lines and then complain, We got this sign but not witnessing any desired effects of this auspicious marking.
It is the wrong judgment and sheer ignorance by the people that take palmistry backward, not the science itself. Hence it is imperative to understand the difference between an island and a fish sign
Difference Between Fish Sign And A Square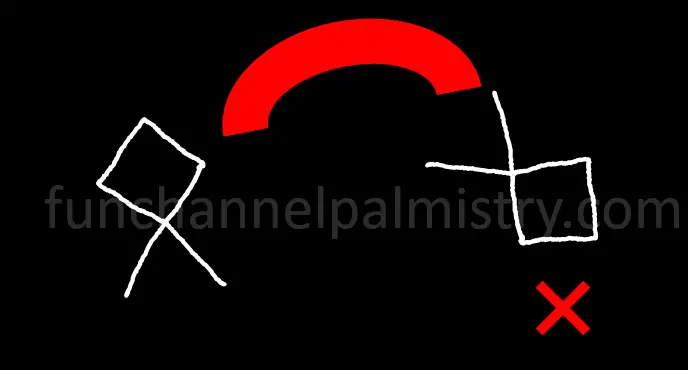 Furthermore, a square with extended lines can be mistakenly construed as a fish sign. However, if you change its orientation and let it sit on its base, it is just a square. A popular mistake made by so many people.
I tried to the best of my abilities to help you identify a true fish symbol from the clutter of lines.
Celebrities With Fish Sign On Palm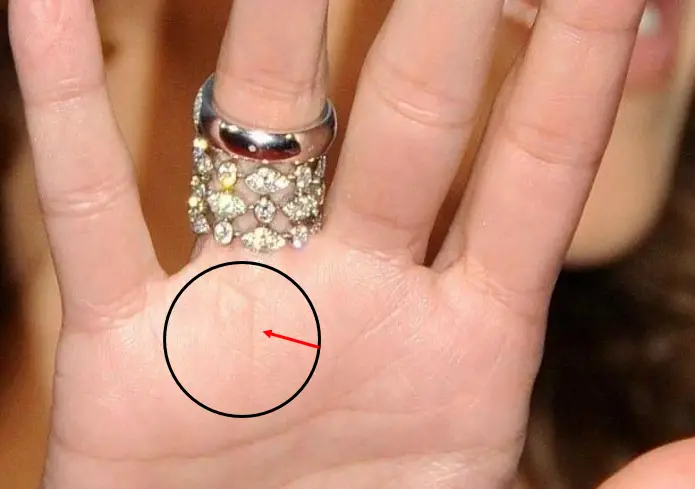 One of the most talked about images in the palmistry community is the fish sign on Jennifer Lopez hands popularly known as "J.Lo". She is a very popular American actress and singer. You can clearly see a well-marked fish sign on Apollo mount under the ring finger.
The pink color of the hands and the mouth of the fish is slightly directed towards the mercury mount absorbs strong business, communication, and money-making skills from the mount of mercury and Apollo mount bestows unusual creative energy, a potent combination for international fame and celebrity status.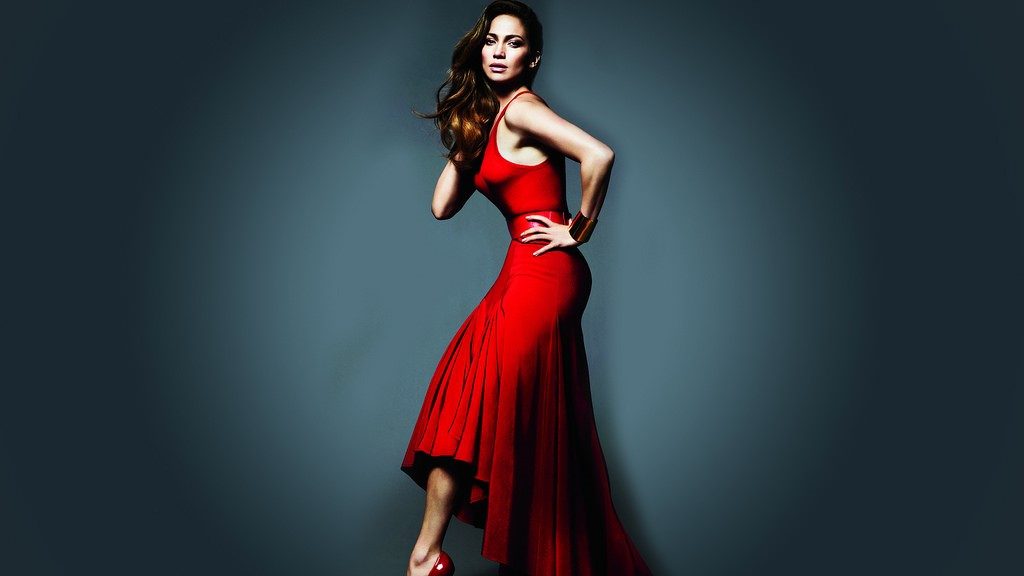 Forbes ranked her as one of the most influential celebrities in the world. It is estimated her net worth is more than 400 million dollars. She is a humanitarian, successful producer, and businesswoman who owns her clothing line, accessories, and perfumes.
Read More: Fame line on palm and celebrity signs, CLICK HERE
Fish Sign On Female Palm
A prominent fish sign on the female palm will bring material prosperity and fortune to her husband. The closed doors will open full of opportunities and he will experience exponential growth after marriage. She will love him with pure heart and devotion.
In addition, she will be blessed with healthy kids who will take care of her needs in old age.
Fish Sign On Male Palm​
Fish sign on male palm also denotes riches and honors in his life. He will enjoy a position of authority, a refined character, and a charitable disposition is observed.
Moreover, he will be blessed with a wife who will be loyal and support him through thick and thin.
Fish Sign On Palm Benefits
In general, fish sign on palm brings wealth, fame, and luxury into one's life. It provides immense wisdom during the initial struggle faced by an individual and showers with an equal amount of riches in the latter part.
The fish symbol in palmistry is considered an auspicious marking as the bearer never falls short of money and good opportunities.
Although fish can be found anywhere on the palms, it is generally spotted on the mount of moon as it is associated with water elements and travel, near the wrist or the mount of Ketu, and at the end of the lifeline which generally represents the health and well-being of a person.
Let's see the effect of lucky fish on palm found on different locations and its interpretations.
Fish sign on mount of mercury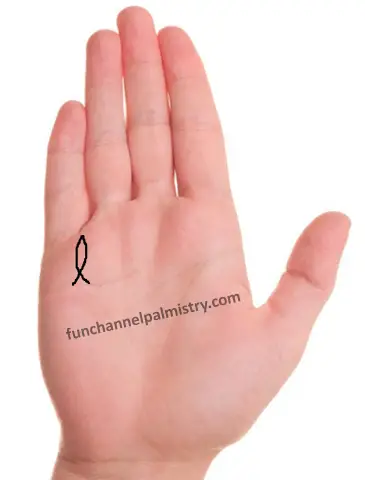 Fish sign on mount of mercury denotes a remarkable career in medicine, law, or mathematics.
It bestows an individual with out-of-the-ordinary communication and oratory skills, an ability to learn new languages at ease, and a fast and accurate assessment of any situation.
I have often found that bearers with the fish sign on mercury mount take an entrepreneurial route at some point in their lives; start successful startups or businesses as they are gifted with a convincing demeanor, a strong grip over finance, numbers, and new emerging markets.
Fish sign on mount of Saturn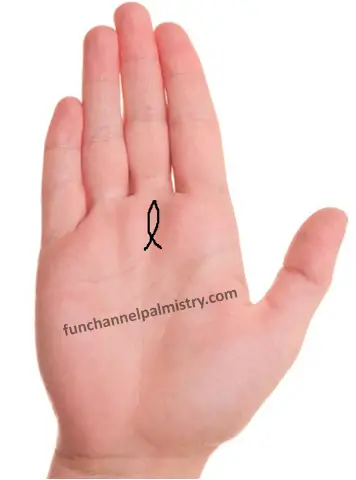 The fish sign on Saturn mount accentuates research skills and a data-driven approach. It deepens the interest in occult science, and philosophy, and the person is likely to attain fame or expertise in some niche that is difficult to master.
Land, nature, and the universe are full of mysteries. Such a person is likely to unearth hidden truths and find oneself extremely lucky in unraveling secrets associated with mysterious arts.
Moreover, the fish sign on mount of Saturn makes a person very organized, disciplined, wealthy, and represents peaceful life in old age.
No fish on hand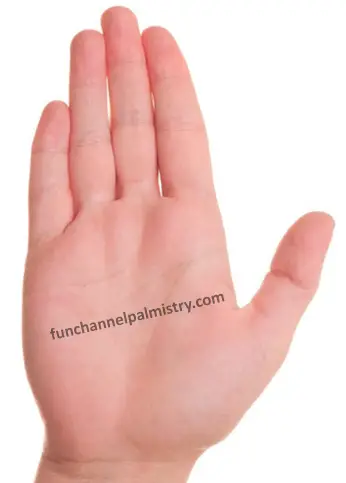 What if there is no fish on hand?
Futile attempts should not be made to find this rare sign.
When the mounts are prominent with one of two positive signs on them, the hand is devoid of horizontal lines and the structure of the hand is solid, you certainly don't need a fish sign on palm to become successful in your life.
If anyone holds a firm opinion that a single isolated sign can change your entire life trajectory, I am not sure that person is in the right state of mind.
In such a case, what necessitates studying both hands and reach to any meaningful conclusion? You are all set for your life.
Fish sign on Rahu mount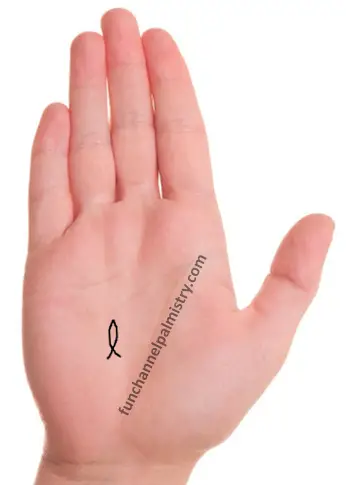 The fish sign in the middle of palm brings abnormal fortune in the late 20s or early 30s of one's life.
A clear fish sign on Rahu mount or a fish sign on plain of mars indicates sudden big money will start pouring in from multiple sources which he or she had not even dreamt of.
Fish sign on mount of Jupiter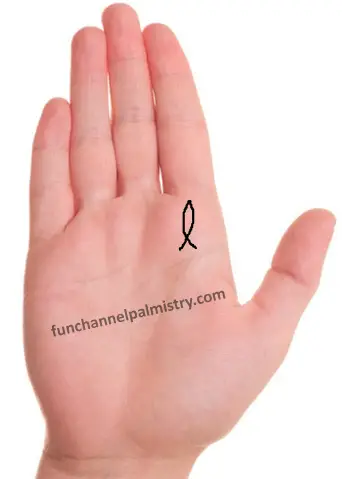 The fish sign on Jupiter mount enhances and establishes a strong spiritual connection with the universe and balances the energy chakras located within the body.
It makes a person pious. Ambitions and strong desires are realized by one's wisdom, knowledge, and managerial skills.
Fish sign on mount of Jupiter drives immense prosperity, job, self-realization of one's goals and wealth. A sudden rise in social stature and luck after marriage is seen if the Jupiter mount is fairly developed.
Read More: Most special signs on Jupiter mount, CLICK HERE
Fish sign on Mars mount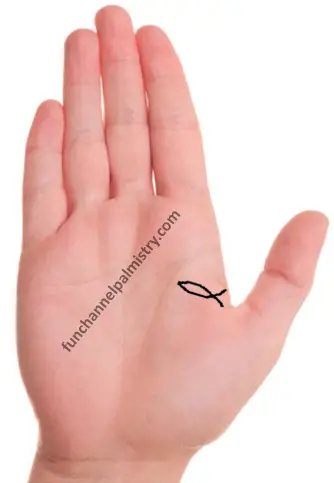 Fish sign on mars mount is quite rare and its true effect are only seen when the mount of mars on palm is well formed and moderately developed.
Fish sign on lower mars increases the physical stamina of a person and strategic thinking in a war-like situation.
Interestingly, I have observed this marking on the hands of professional wrestlers, military officers, martial arts trainers, and career that requires courage, energy, aggression, and a go-getter attitude.
Fish sign on upper mars mount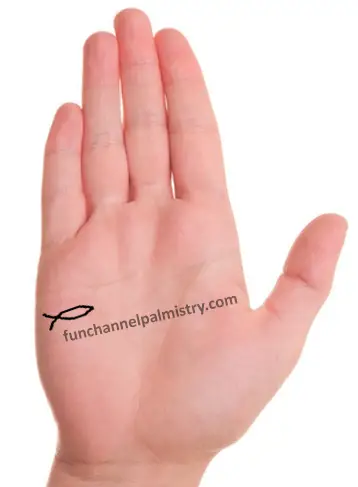 Fish sign on upper mars mount denotes tremendous success in the import-export of weapon components, adventurous sports, and horticulture.
In addition, fish sign on outer mars also suggests luck in the accidental finding of hidden gems and treasures buried deep in the land and huge wealth creation in the real estate world.
Fish sign on Sun mount
Fish sign on Sun mount makes an individual a creative genius and extremely rich. He or she will be well connected in the powerful elite circle and more than often holds an influential position in the government.
People with a fish sign on mount of Sun are internationally renowned and enjoy a spotlight at the parties due to their magnetic, vivacious, and radiant persona.
Material prosperity and great achievement are certain with this auspicious sign.
Read More: Types of luck lines on palms, CLICK HERE
Double fish sign on Sun mount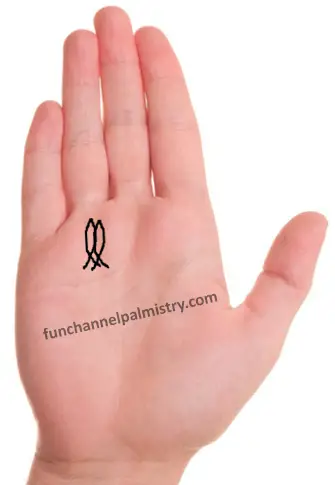 The double fish sign on sun mount as the name suggests will give twice the positive results as mentioned.
Fish sign on moon mount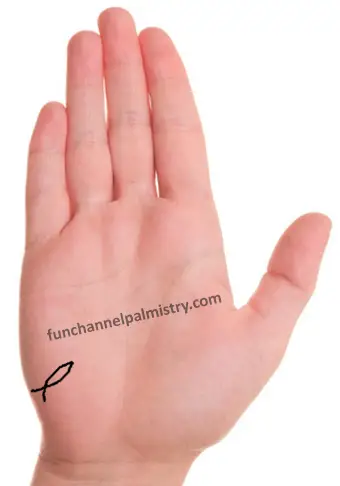 Fish sign on moon mount increases the chances to settle abroad and helps to garner a fan following and international clients far away from one's native place.
If a person thrives in an artistic world he or she will be a brilliant writer, poet, painter, sculptor, or in any creative field that requires fertile and vivid imagination. Fame and riches will follow.
Furthermore, the fish sign on mount of moon presents long productive foreign travel or journeys which will change the fortune of a person and immense wealth is obtained via business related to water, nature, gemstones, or mount of moon.
Fish sign on Venus mount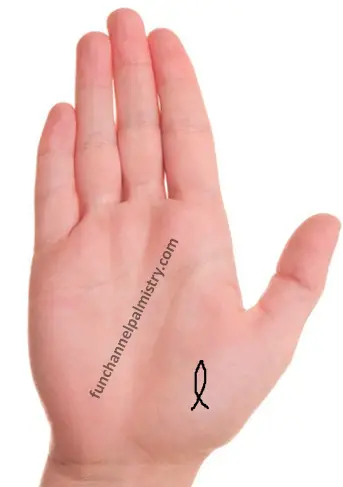 Fish sign on Venus mount helps to attract the opposite sex's attention and confers a person with a very attractive and beautiful spouse. He or she will receive unconditional support from family members, close relatives, friends, and one's spouse.
Not to mention, the bearer will be lucky in finding true love and also indicates satisfaction of sexual desires.
In my own experience, I have seen people with a fish sign on the mount of Venus enjoy a life full of amenities and luxury. They are sophisticated, choosy, and possess impeccable dressing sense.
Fish sign on Ketu mount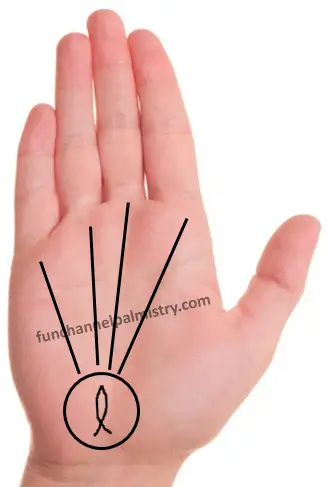 Mount of Ketu is located between the moon mount and the mount of Venus as shown.
The fish sign on Ketu mount holds very special importance in palmistry. Most of the time, it gets found in this area.
It is a sure sign of big success, past life good deeds, and huge monetary gains to reckon with. One thing is for certain the person will be spiritual and grounded with one's feet on the ground in his quest for betterment.
If the mouth of the fish faces toward the mount suggests early prosperity and opportunities in the subject's life.
For instance, if the mouth of the fish is pointing towards the Sun mount it sucks the positive attributes from the Apollo mount and represents the subject will be highly qualified and extremely famous in his line of action. Likewise, if the face of the fish is inclined towards the mercury mount, the subject is destined to make fast progress in building his business empire with the right set of people, and so on and so forth interpretation can be made.
Sometimes, the fish symbol on Ketu mount is formed facing between the mounts. It will draw power from those two mounts accordingly and he or she will excel in the career qualities associated with them.
Double fish sign on Ketu mount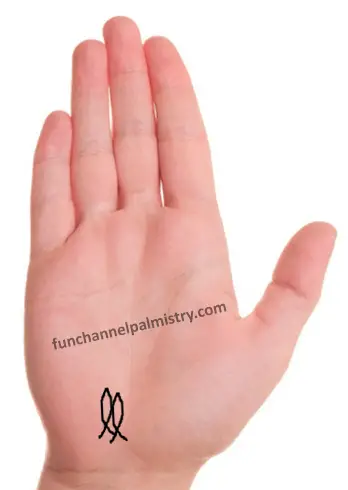 The double fish sign on Ketu mount will grace an individual with jaw-dropping wealth in one's life.
They can be found facing each other, intertwined, or towards the respective mounts.
I have seen this rare conjunction on the hands of one of my clients who is in a diamond-cutting business.
Fish tail in palmistry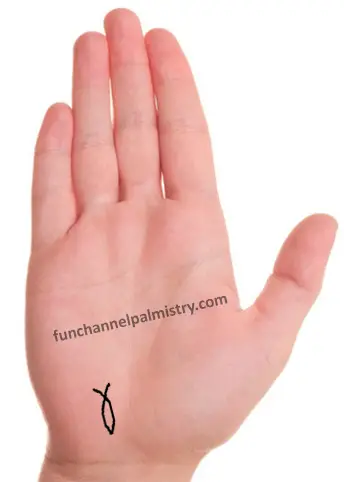 On occasions, you will find the fishtail facing towards the mounts and the face towards the wrist as shown. It denotes late prosperity and success.
The subject will encounter lots of hindrances and struggles before he realizes the fruition of his hard work.
Read More: Cross sign present on your hands, CLICK HERE
Fish sign on lifeline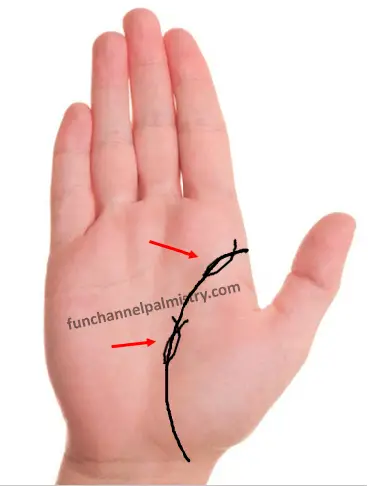 Fish sign on the lifeline or fish at the beginning of the lifeline does not exist.
Fish line in palmistry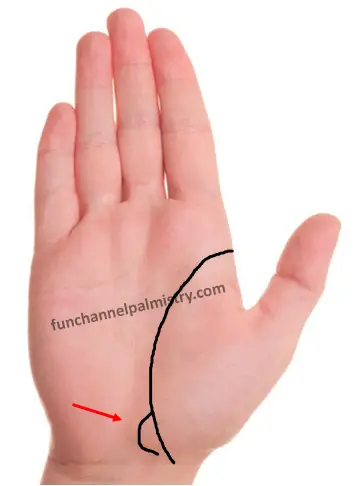 There are times when a line from the lifeline starts to curve inwards. It resembles a fish in its formation. Traditional palm readers used to call this line the fish line in palmistry.
I personally don't give too much importance to this line in my readings.
Fish sign at the end of lifeline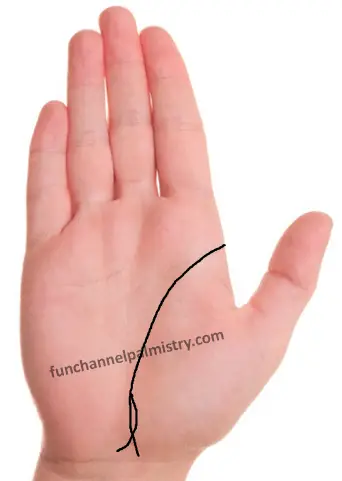 The fish sign at the end of lifeline indicates the person will rise due to constant support from family members, good samaritans, and relatives. However, if the fish is not in its clear formation it suggests loss of material property and danger from the water, and health defects.
A huge fish sign on lifeline makes a person benevolent, religious, and high-spirited.
Fish sign at beginning of fate line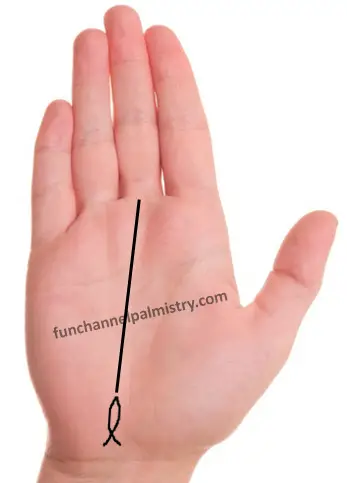 Fish sign at beginning of fate line and not touching it assists the subject with brilliant opportunities, good luck, and financial progress all throughout one's life.
Fish sign on fate line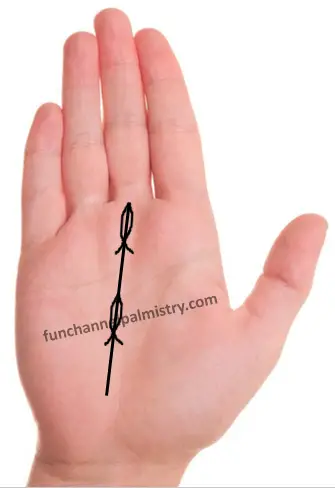 Fish sign on fate line does not exist.
Similarly, fish sign at the end of the fate line never gets formed. It can exist independently on the Saturn mount as mentioned before.
Read More: Horizontal lines on thumb and its meaning, CLICK HERE
Fish sign on the heart line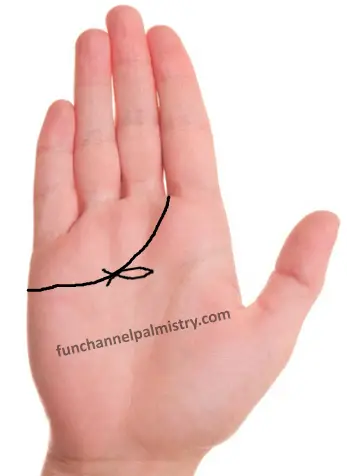 Fish sign on the heart line is a figment of one's imagination. In reality, it does not exist.
Fish sign on the headline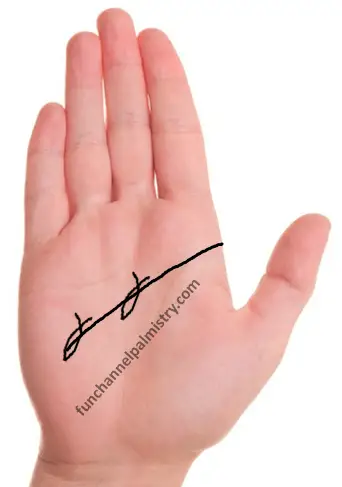 The fish sign on the headline is all gibberish and does not exist.
The fish at the end of the headline is fictional as well.
Fish sign on the marriage line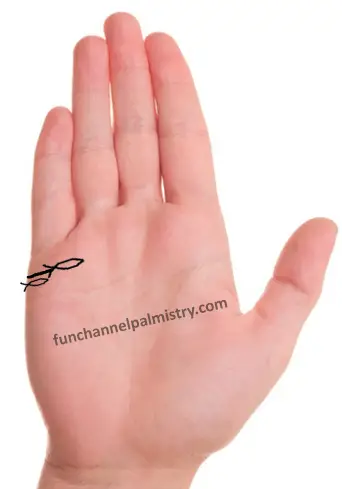 The fish sign on the marriage line is fabricated nonsense and does not exist.
Likewise, the fish sign at the end of the marriage line never gets formed. People often confuse the fish symbol on marriage line with an island sign which is frequently seen on the marriage line.
Fish sign on the thumb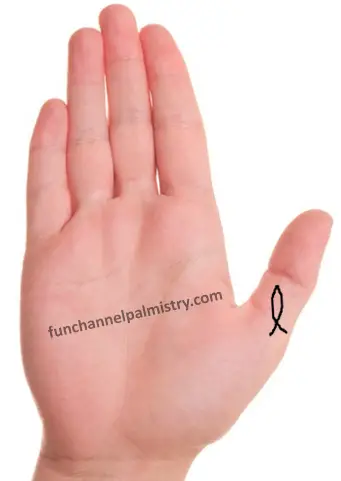 A fish sign on the thumb can exist in someone's wildest dreams. In reality, it does not exist.
Fish sign between the headline and the heart line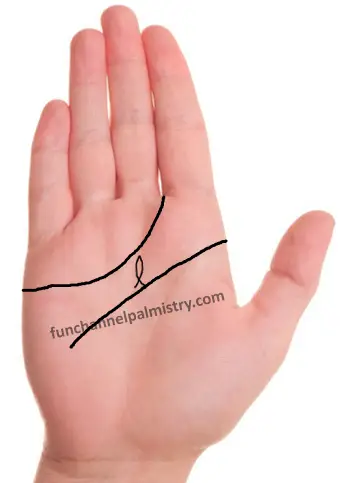 Fish sign between the head line and the heart line does not have any significance.
Fish sign on the mercury line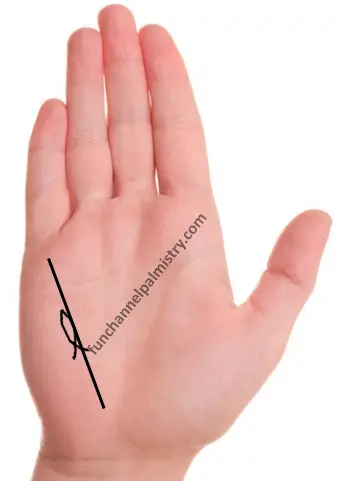 The fish sign on the mercury line, as you guessed by now, does not exist.
If you want a palm reading or ask a specific question, CLICK HERE